Are you almost ready to start packing to jet down south to sunny place? Villa del Palmar Cancun Restaurants has to offer everything you have dream the last month (even with the spicy tacos).
Owned and operated by the award winning Villa Group Resorts, we are a luxury resort with beautiful beachfront suites and top of the line amenities. Plus, we are located on one of the region's most beautiful beaches so you can quickly go swimming, paddleboarding, and more.
If you love to indulge in great food during your vacations, you won't be disappointed with our amazing onsite restaurants to choose from. We also have a quality vacation membership if you'd like to always provide your family with perfect vacation experiences.
In the meantime, keep reading below if you'd like to get to know Villa del Palmar Cancun's restaurants.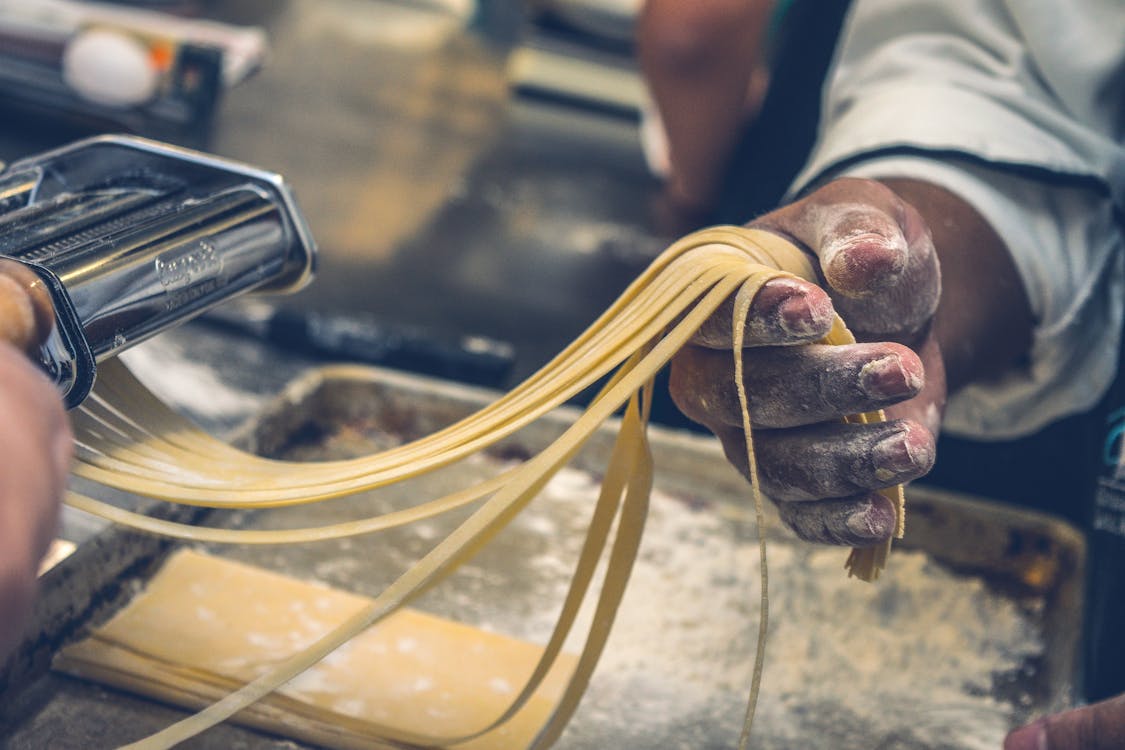 Davino Restaurant
To start with, Davino Restaurant is the place to go if you're in the mood for Italian food with a flair.
Our talented chefs love to prepare mouth watering Italian dishes that are served in a contemporary-chic environment.
Open for dinner form 5:30pm to 10:30pm daily, our casual chic restaurant features minimalist dishes with generous portion sizes.
Guests will enjoy their meal on elegant wooden tables that create a cozy and inviting vibe.
In addition to great pastas, we have incredible pizza and rustic bread that is baked daily in a brick oven.
Also, we have a wonderful seafood bar where the fresh catch of the day is served daily.
Last but not least, there are vegetarian options as well as steak, pork, and lamp dishes, too.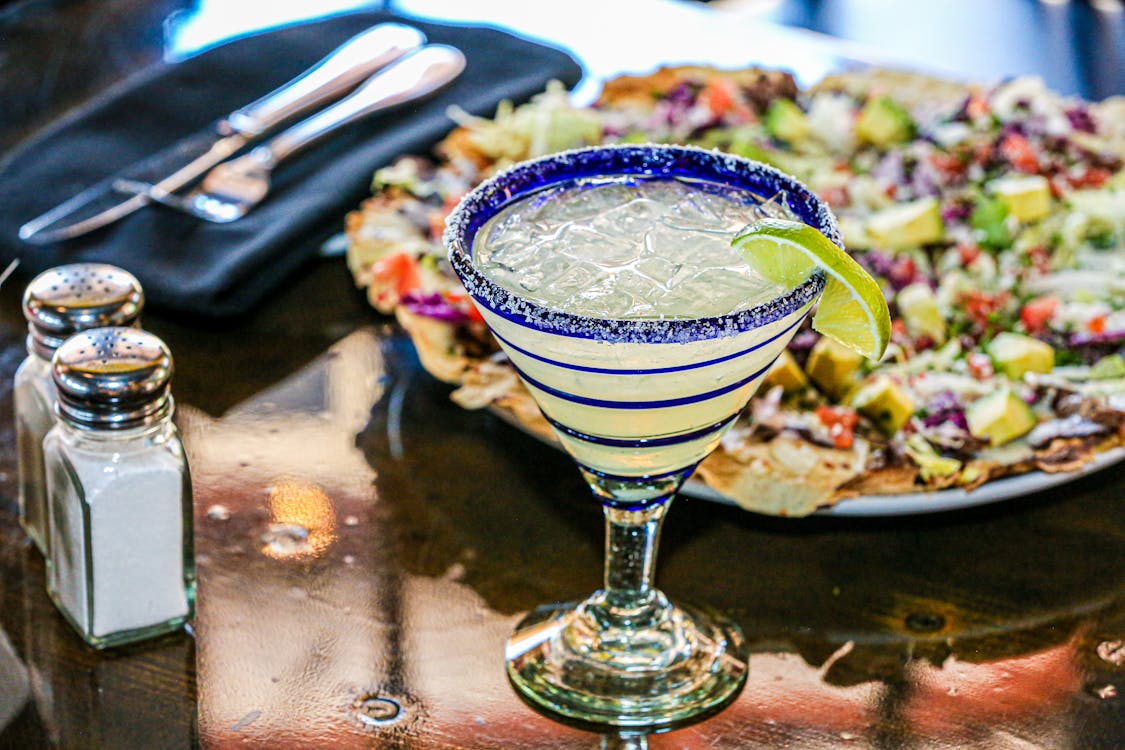 Zamá Restaurant
When in Mexico, you have to make sure to eat delicious and authentic Mexican cuisine. Zamá is gourmet Mexican dishes that use fresh, local ingredients to treat guests with meals that are a modern twist on classic Mexican dishes. Open daily for lunch and dinner, the menu is focused on food from the Yucatan region of Mexico. Our delicious Yucatecan gourmet dishes pay homage to traditional local delicacies using fresh ingredients and unique recipes that modern palates will appreciate.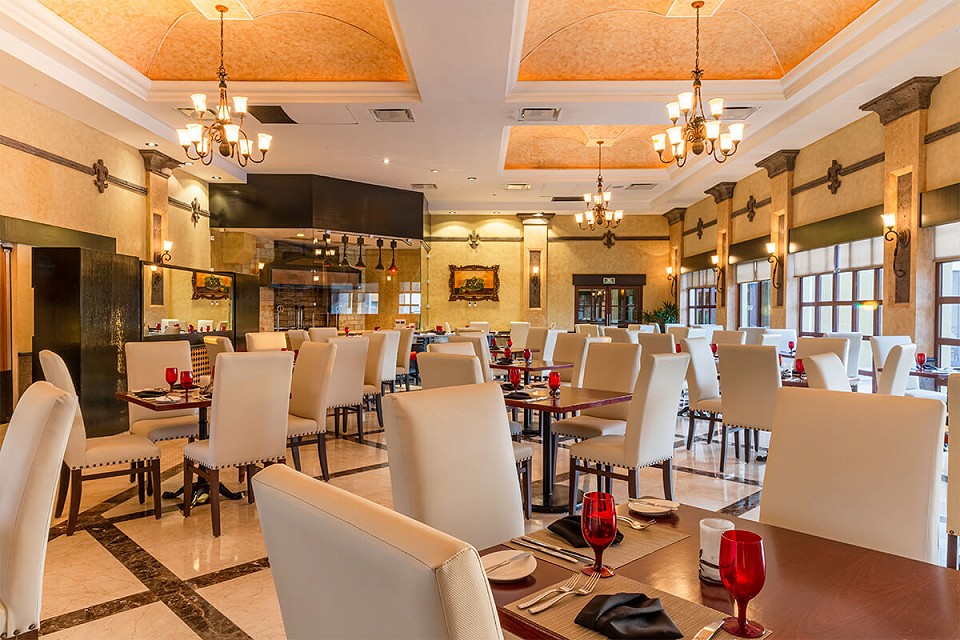 La Casona STK
If you're in the mood to sink your teeth into a hearty steak, La Casona STK cannot be beat. The innovative menu features a nice variety of gourmet meat courses in a trendy ambiance. We also have tasty Japanese cuts as well as aged and matured meat dishes. The waitstaff is friendly and knowledgeable and can help recommend a great wine to go with your meal from our award-winning wine selection. The warm and contemporary decor includes rich, chocolate-brown walls and cowhide accents tha create a sophisticated and calming dining environment.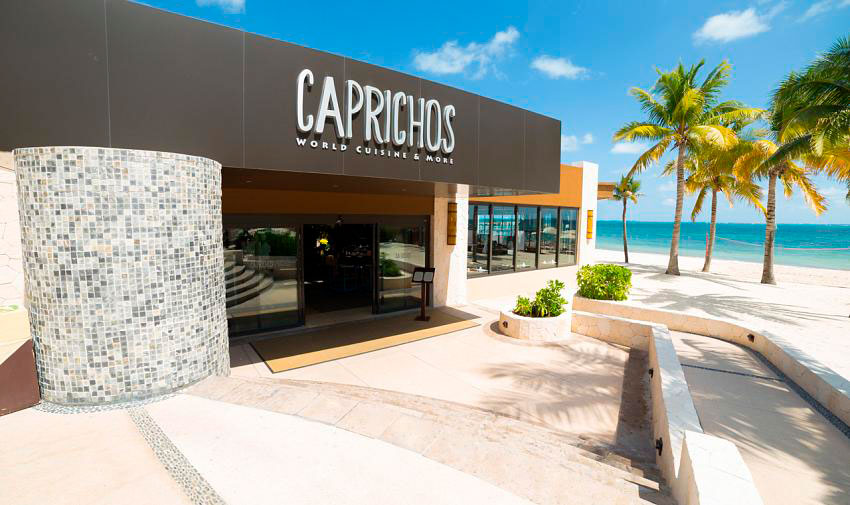 Caprichos
At Caprichos, you and your family will enjoy the fun setting that includes amazing food along with evening entertainment and shows. A breakfast buffet is served from 7:00am to 12:00pm noon daily, and dinner is served from 5:30pm to 10:00pm. Inside Caprichos, a permanent stage is set up that has top of the line sound equipment for the evening entertainment shows. It's a great place to celebrate special occasions as you enjoy a great meal. The show schedule is found by the pool area but often includes Magic & comedy shows, Mexican folklore performances, Pre-hispanic culture shows, live band nights, and Disco nights. The delicious and extensive gourmet buffet is available daily so everyone in the family can easily find something they love to eat.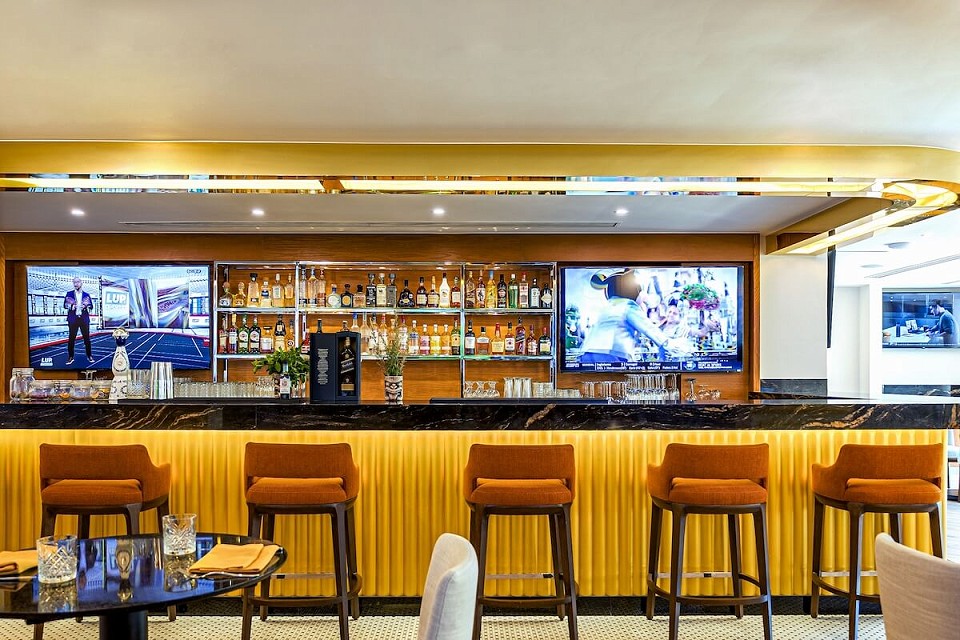 Legends
Legends is a modern sports bar so sports fans can still watch their favorite games and matches while on vacation. It's the spot to go to watch the best live sports events while enjoying a delicious meal or signature cocktail prepared by master mixologists. Open for lunch and dinner, the Legends lobby bar is even open from 10am to 12:00pm for games that start early in the day. Guests can choose from American cuisine favorites such as burgers, steaks, wings, and nachos. We also have a wide selection of national and international craft beers with several options on tap, too.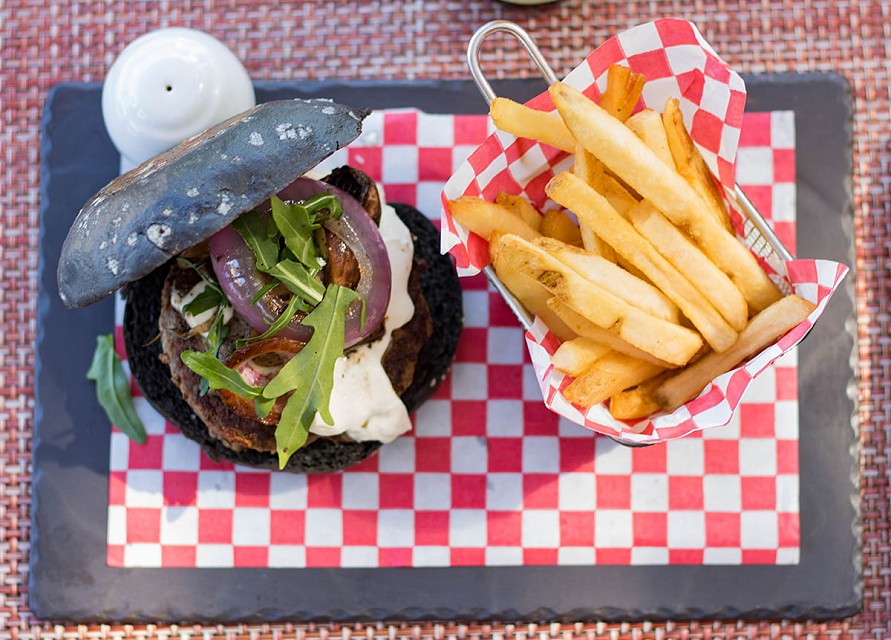 Bite Bar
Not super hungry, but need a quick snack to curb your appetite? If so, head to the Bite Bar. Ideal for lunchtime or light snacks by the pool, the Bite Bar is a casual outdoor bar & grill. You can find wonderful salads, ceviches, burgers, sandwiches, pizza, and so much more. Food is available from 12:00pm to 6:00pm, and the bar is open from 10:00am to 6:00pm.
Palmita Market & Deli
Lastly, we are proud to have a convenient market and deli onsite as well. At the Palmita Market & Deli, you can find Starbucks coffee as well as a mini-market that has grocery items, snacks, pastries, and even souvenirs. You can find prepared sandwiches and drinks and make a picnic to take down to the beach.
In addition, you can also find a variety of beach attire including casual clothes, swimsuits, flip flops, hats, and more. You can even find pharmacy items and personal hygiene products as well.
As you can see, Villa del Palmar Cancun restaurants are really in a class of their own. Now, the only question is, which place do you want to go to first? Contact us today to take advantage of all-inclusive travel packages that are on sale right now.
Also, during your stay attend a sales presentation to learn more about our exclusive vacation club. It's a great way to save money on vacations and ensure that every getaway will be enjoyable.
Likewise, our Beachfront Rewards program is a great way to share your wonderful travel experiences with your friends and family. Each time a vacation club member refers a friend or family member to join, they earn Awards Credits which can be used to upgrade accommodations, at the spa, or at onsite restaurants. Contact us today to learn more and book your getaway to sunny Mexico!